Executive Coaching
Make your ambitions your reality. Be uplifted, inspired and motivated through the power of executive coaching.
We will help you navigate through uncertainty, harness your innate power and fulfil your potential.  
 Find your mojo
Executive coaching comes in many forms – there are different styles and approaches – but the ultimate goal is to help you become the best version of yourself. 
 When you engage a coach the focus is on your success.  You will often have the answers and the role of a good coach is to help you define your vision of success, discard the clutter and help you move towards your goal. 
 Sometimes, we get in our own way.  We lose clarity because of daily challenges, external noise and competing demands on our time.  A coach can help guide us through the chaos.  
Benefits for the
INDIVIDUAL
Clarity on your goals and objectives
Commitment to a plan for the future with realistic timeframes
Identify blindspots
Reflective time – an environment for your mind to slow down and think deeply
Feedback – it comes in many forms from simple observations to data points from individuals
Help to see yourself from the perspective of others
Challenge – someone to test your assumptions and beliefs, to support you as you try out new things
A confidante who makes you accountable
Enhanced leadership traits and interpersonal skills
improved skills to move you to the next level in your career
More effective stakeholder interactions
Benefits for the
ORGANISATION
Increased engagement
Improved retention
Improved leadership capability
More effective use of company resources
Improved accountability and business rhythm
Consistent high performing culture
Your Coach
They will be professional, empathic and 100% focussed on you.  They will bring fresh perspectives, compassion, honesty, intellect and acument.  They will guide you through a process.
The Experience
When you work with a coach you will feel the world of possibilities open up to you.  More than that, you will believe those possibilities are attainable.  You will feel uplifted, energised, relieved and inspired.
Our Approach
We bring process and methodology to the way we coach but the starting point depends on you.  We partner with you to understand where you are and then we help you to navigate the next best step.
In our Executive Coaching program you will be at the centre.  Our methodology is steeped in best practice research and incorporates adult learning principles to ensure that your coaching experience is positive and the outcomes you are looking for are robust.  The elements of our methodology can be summarised by:
Bespoke – we respond to you and your needs, therefore each coaching interaction is unique and specific to where you are at and where you need to focus
Flexible – we will work with you as you progress your plan and at the same time help you assess the things that need your immediate attention
Personal growth – we will focus on your self development, building upon and refining your skills, traits and mindset, thus developing your ability to develop others
Perspective – we will give you insights, alternative perspectives and broader thinking to assist you to make sound decisions, whilst being cognisant of your situation and context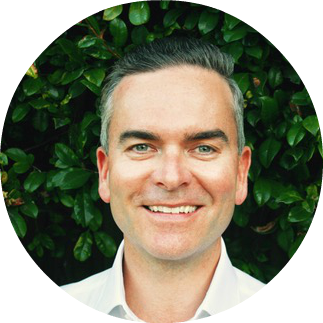 coaching practice lead
ANDREW PETERSEN
Overview
Andrew has more than 15 years of leadership, human resource management and executive development experience, primarily in the finance sector where he delivered tangible business results whilst balancing the needs of employees and stakeholders. It is through these experiences that Andrew has resolved that without exceptional leadership and a highly engaged culture, businesses rarely achieve their aims let alone maximise their potential.
Andrew's approach to coaching is to tailor his support to the specific needs of the individual to unlock their potential. With optimal performance in mind, Andrew partners with executives to increase their awareness and insight, challenging them to explore and consider their choices and take action. By acknowledging the strengths and intrinsic motivation of the executive, Andrew is able to help them put a plan in place to achieve their goals over the short and longer term.
Andrew has an efficient, supportive and solution-focused style and is passionate about helping people fulfil their ambitions and achieve their goals.
Clients describe Andrew as extremely credible, authentic and trustworthy, with deep insights that spur deeper thinking and different perspectives. Andrew's strong focus is to facilitate a person's mindset, skills and capabilities to excel professionally and personally.
Qualifications
Master of Business Coaching, Sydney Business School, University of Wollongong
Advanced Diploma, Human Resources Management
Executive Coach, Institute of Executive Coaching and Leadership
The Leadership Circle (TLC)
Herrmann Brain Dominance Instrument (HBDI)
LSI & GSI, Human Synergistics
One to one coaching packages
360 degree leadership profile and debrief (TLC)
Leadership team workshops
Team coaching sessions
Contact us for more information about our executive coaching offer.
Andrew
 helped challenge the way that I thought about certain leadership situations. With great organisational agility and an strong understanding of the complexities of my role and me as in individual he was able to assist me navigate through the challenges of leadership in a high performing organisation, at the same time giving me the space to reflect and learn from the experience.
He has a real knack of understanding people; their strengths and what makes them tick. I felt a real sense of empowerment and control as an outcome of our conversations. This in turn helped me be more effective leader within the business.
The work that I did on building and developing my team was through the guidance and insights of
Andrew
. He helped me with a robust plan to get the most out of my team by maximising strengths and minimising my leadership shadow.
For me personally 
Andrew
 has played a key role in leadership coaching. He has worked with me closely using a number of tools to identify my style and opportunities to grow and then working on a plan to execute on this. This initially led to defining a set of KPIs and way of leading through them that drove one of my most successful years in the business to date. I have been able to move forward from self-awareness to executing the changes I want to make that will have the biggest impact on my ability to lead effectively.
Some very practical advice such as how to document KPIs and track to deeper advice such as how to really understand your value drivers and build into your leadership behaviours has given me a new holistic toolset to grow my career.